Darell Dickey, Kim & Kyra Lee, Davis, CA
VIN: 1FTZR0870YTB27551
White 2000 (with 2001 bed). Purchased new 12.2005, from a lottery buyer. Sold 02.2006, so I hardly count. ;) Was charged with power offset by our grid-tied 2.5kW solar PV array. Dome light and third brake light swapped for custom LED units. Leather steering wheel cover and factory floor mats.More info and pictures.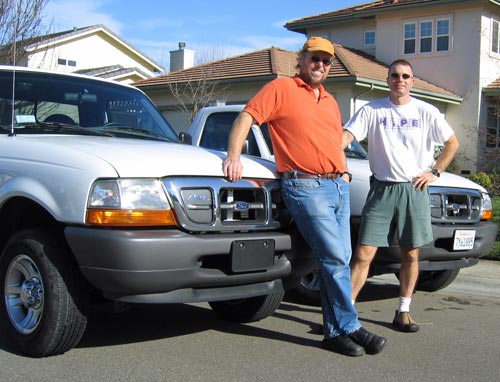 Eugen Dunlop (and Darell), Davis, CA
Ed, Kathy, Lizzy & Jemma Thorpe, Alameda, CA
VIN: 1FTZR1070WTA40652 (PbA)
License: EVHAULR (trailer is EV HAUL)
White 1998. Purchased used with ~7k miles 06.2005, off ebay from 2nd owner. Originally part of Alabama Power fleet, so exempt from the California crushing effort. Mostly charged with geothermal (55+%) & hydroelectric (30+%) through local power company. Improvements: Dome light swapped for custom LED unit (thanks Darell). Simulated wood dash, in process of upgraded to power windows, mirror, locks. Used for towing up to 2000 lbs (Sparrow on trailer).
Tom Griner, Mountain View, CA
License: NIMH EV
White 2000 NiMH from Blue Sky Motors (Former Air Force lease vehicle). Camper shell added with solar panels on the roof to keep the 12v system topped off and run accessories. 1998 tail lights substituted (to have yellow turn signals). LED bulbs all around. 4kW solar system at home provides all my home power with some extra to charge the truck. Custom bumper stickers "Crush the ICE", "dump the pump", "powered by sunshine", etc.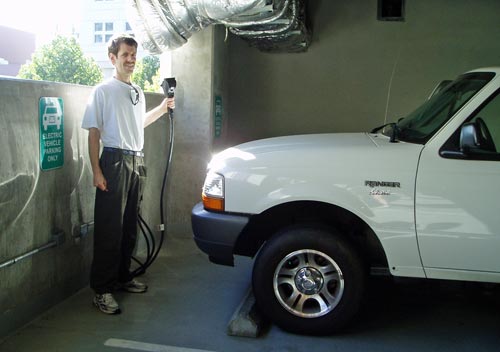 Ben White & Susan Parks, San Jose, CA
White 2000 Lead-Acid. License 7Y62122.
Purchased through the lottery in Oct 2005. 11,000 miles as of Sept, 2007. Used for commuting to work (20 miles round trip), and occasionally hauling "stuff".