Trailer
---
Well... I installed the bumper/trailer hitch on the Rav4EV, so what's the next logical step? Build a trailer of course. I used to have a 4x8 utility trailer that weighed in at 575 pounds EMPTY. I used that trailer for everything, back when I had a truck to tow it. These days, my biggest car is the Rav4EV. I wanted a smaller, lighter trailer that I could easily tow with the Rav or with our Civic. The Civic is rated to tow exactly NOTHING, and the Rav4EV is rated for at least half that -- so I needed a substantially smaller and lighter trailer. This trailer started out as a bare-bones kit (silly me - I thought it would arrive all assembled and ready to go. A week later I had the wheels built up and installed!), and it has grown as ideas come to me. The four walls register with each other via upside-down gate hinges. The sides can remain in place while the front and back walls are removed (for carrying longer items). The trailer will be used for dump runs, trips to the lumber yard, bringing large appliances home, dragging the gas BBQ and blender down to the local park, and camping. Having a utility trailer is like having a pickup truck. Hard to live without it once you've had one.
Specs:
180 pounds as flat-bed, 252 pounds with sides (sides are 72 pounds combined)
4.8" x 12" wheels
1-7/8" ball coupler
37" x 47" interior size, and 27" walls
1,400 pounds GVW (1,100 cargo capacity - though I'm not that brave)
Spare tire mounted under bed
LED tail/signal lights (same lights as used on big-rigs)
"Big Rig" reflective tape (let's face it - nobody expects to see a trailer behind an EV or a Prius!!)
Jack wheel welded to tongue support
Things I learned:
Use a bit less urethane glue next time (hey - if *some* is strong, then more must be better, right?)
Do not try to hook the safety chains directly to the holes in the hitch - you'll never get them back out! (use quick links)
Only 1/2" of the receiver tube (of the bumper/hitch) needs to be cut off to clear the spare tire.
All ball mounts seem to fit fine without modification.
Use a zero rise ball mount to allow for rear door opening (though the door still cannot be opened with the trailer on)
Do not be cheap and use all scrap lumber for everything - actually BUY some of the correct lumber instead of milling your own to fit. (this is a never-ending problem with me, and is not specific to this project)
Do not let a two-year-old loose with a giant brush full of wood sealant. She is now totally waterproof, as is the lower half of me.
The upside-down gate hinge idea to register all the corners is a WINNER, and if nobody else does it for me - I'll pat myself on the back.
---
First, here is a shot of the installed Rav bumper/hitch with my new, lower rise ball mount (not shown in the trailer pictures). Also visible is the air nipple that allows me to check/adjust my spare tire pressure without crawling under the car. (I swear those scratches in the endcap are NOT visible except in a flash picture!)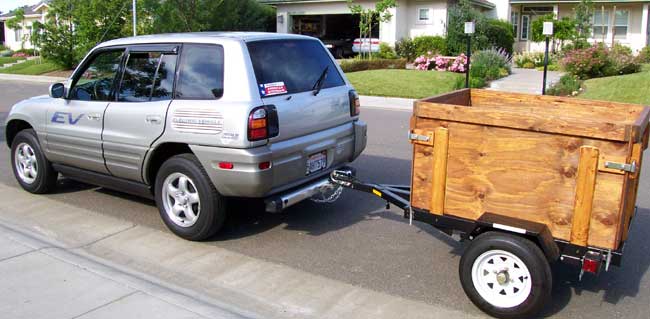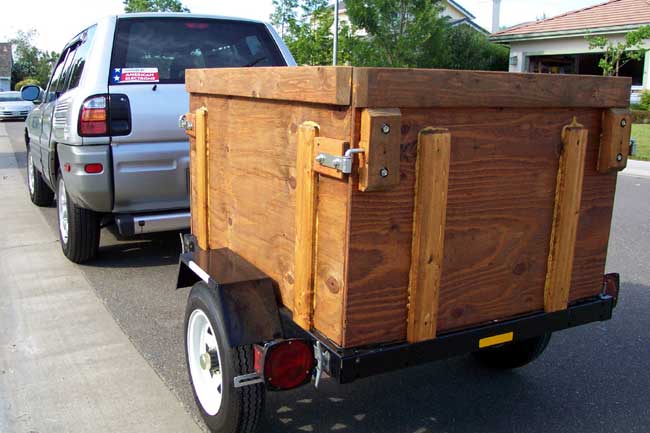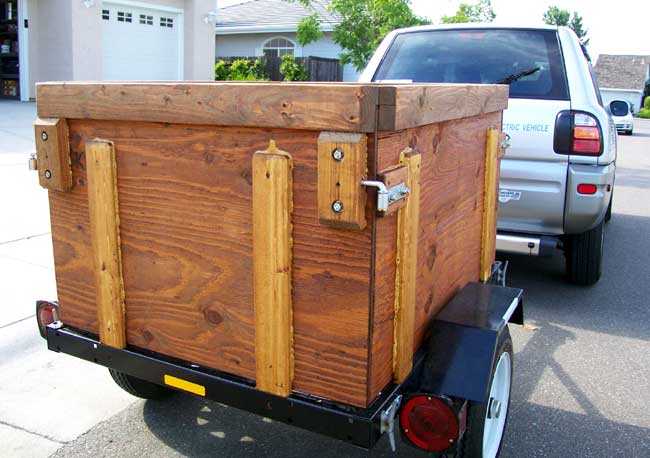 Hinge detail.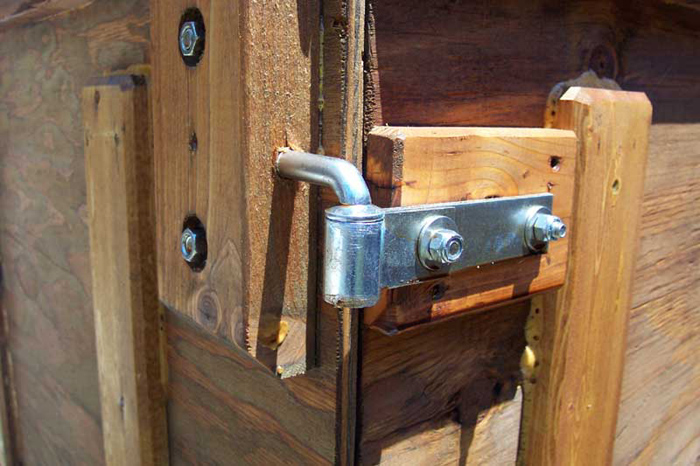 Hauling a load of chargers for the EAA.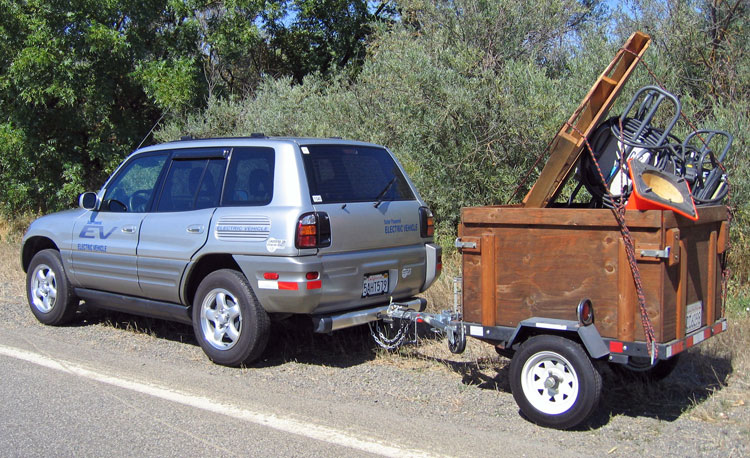 On to trailer #2. SportsRig
---