Rav4EV 200k Mile Club
---
Here are stories from Rav4EV owners who have driven their cars over 200,000 miles. See the 100k mile club here.
---
September 24, 2010 Avi Hershkovitz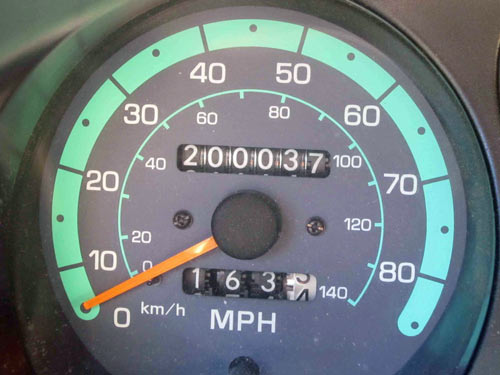 My odometer rolled through 200,000 miles today, on the way to work.
150,000 of these were done on the original pack and 50,000 are on the replacement pack that was installed two years ago.
The car is performing great. It is a real work horse. I have not been to the dealer, or performed any service on it, since the battery pack was replaced.
---
February 24, 2017 Jim Montgomery
I became a member of the 200,000 mile club with my 2002 Toyota RAV4 EV! I got my RAV in April 2002, so it will be 15 years next month since I first started driving it.
I replaced the first battery back at about 94,000 miles and then got a replacement pack from BatteryMD in August 2008. I don't know how many miles were on the replacement pack but I am currently at least at 106,000 miles on the replacement pack. I'm definitely seeing degradation in the replacement pack, getting less miles between charges, get the turtle even with SOC showing as high as 80% when accelerating on a hill, but the car is still going strong and is very dependable. Had to change the charge capacitor and a failed charge port fan over the years, but other than that beyond tires and windshield wipers (and the one replacement pack), the vehicle just goes and goes and goes. I chalk up the greater range on the second pack to me getting a little smarter in how I treated the pack. I would make sure to keep the car on until the cooling fan turned off and I would also set my charge timer to be at just about 100% on the pack right before I needed the car. I wouldn't charge it fully and let it sit with hot batteries. The RAV is actually my 3rd EV. I had a converted Pontiac Fiero that I got from Solar Electric (precursor to U.S. Electricar) in May 1992. Drove that 36,000 miles in 6 years. Then I leased the Honda EV+ from 1998 to 2002, putting about 57,000 miles on that vehicle. And now with the RAV. So, totaled up that is about 293,000 miles. My wife has the 2013 Nissan Leaf and we have 44,000 miles on that.
I'm on the wait list for the Model 3, but plan to keep my RAV4 EV running as long as possible. It will always have a special place in my heart as it is the one remaining vehicle from the first generation of production EVs still around and it allowed us to keep EVs in the public conversation. It is gratifying to see how far we have come in the 25 years since I first drove my converted Pontiac Fiero. It had 18 6-volt lead acid batteries, a DC motor and charger. Full charge on 120V in about 6-8 hours and got a range of 30-35 miles. And it had a blazing fast acceleration of about 0-60 mph in about a minute ;-)
---
March 30, 2017 Gerry Gaydos
I'd like to add my 2002 "RAVioli" to the 100,000 mile club. She's just over 113k now but I have photos of the day she crossed over 100k.
---
February 02, 2017 Jerry Pohorsky
A couple of days ago my 2002 RAV 4 EV odometer passed the 200,000 mile mark. Not sure how much longer it will go, but I think it will last until my birthday in August and probably beyond. I had Battery MD replace my original pack back in August of 2012 and it ran as good as new at that time. Recently, I saw the turtle one time when I accelerated strongly when the SOC was below 50%. Since then, I make it a point to keep an eye on the voltmeter when the pack is below 50% to keep it in the green any time I need to accelerate quickly. My driving is mostly freeway. My typical day consists of a 45 mile round trip to work and back. About 5 miles of that is on city streets before I get to the freeway. On the way to work, the voltmeter is well into the green. On the way back, it is significantly lower and dips a lot more on acceleration and pops up a lot on regen. This is a sign of increasing battery internal resistance. I will have the internal resistance checked soon and see how many cells are into the double digits of mill i-ohms.
---
---