Rav4EV 100,000 Mile Club
---
Here are stories from Rav4EV owners who have driven their cars over 100,000 miles (those of us who haven't driven that far just haven't had enough time!) See the 200k mile club here!
Pohorsky - Simo - Young Park - Alexandra Paul - Whitehead - Korthof - Hershkovitz - McCollister - Thysell - Colburn - Kane - Beaulieu - Nelson - Lee - Murtha - de Leon - O'Brien - Ireland - Yan - Jones - Darell
---
100,000 miles reached Sept 09.2009 - Jerry Pohorsky, Santa Clara, CA

I bought my RAV 4 EV in mid 2005 as a lease return from a driver in Hermosa Beach who no longer needed it. Paid $34K with 34K miles on it. The car was in excellent condition and came with a few goodies like tan leather seats, a keyless entry system and a cargo cover to hide the contents in the back.

William Korthof removed the charger from the former owner's garage, installed a hot-wire conductive charging system using his Dad's Manzanita Micro PFC-50 charger and drove it up to my home in Santa Clara, CA in about a day for a very reasonable price. He came up I-5 charging at RV parks at twice the normal charging rate using the PFC-50. I met him at my home after work one day and the car was sitting in my driveway. I dropped him off at the Amtrak station for the trip back home and shipped the PFC-50 back to his Dad via UPS.

Since then I've added 66K more miles, replaced the auxiliary battery, gone through two sets of tires and converted to steel rotors on the front disc brakes. I've added the trailer hitch with a 2 inch receiver that works well with a bike rack to carry my 70+ pound electric bicycle. I recently bought the factory roof rack so I can haul my windsurfer. The car has been trouble free and I just hit 100,000 miles on the original set of batteries. I have never seen the turtle and yet I have made freeway trips of over 95 miles.

Earlier this year I added a 4.9 kW solar system to my home that produces more electricity than I typically use in one day. Here is a link to a website where you can monitor my solar system. Try out the time lapse feature - it's really cool!
http://enlighten.enphaseenergy.com/public/systems/9sb3447

---
100k miles reached Sept, 2009 - Greg Simon & Heidi Locke Simon, Mill Valley, CA
In 2002 we installed a 4.8kW photovoltaic array on our home and purchased two Toyota RAV4EVs, 100 percent battery-electric vehicles (BEVs). In our first 100,000 miles of driving zero-emission vehicles (ZEVs), we've saved over $20,000, and every other well-to-wheel emission: no gas, no engine, no emissions, no worries! Now, our seven-year-old daughter, Macquarie, is growing up without ICE (internal combustion engine)-driving parents
---
100k miles reached Aug 13, 2009 - Youngchul and Kai Park in Palo Alto, CA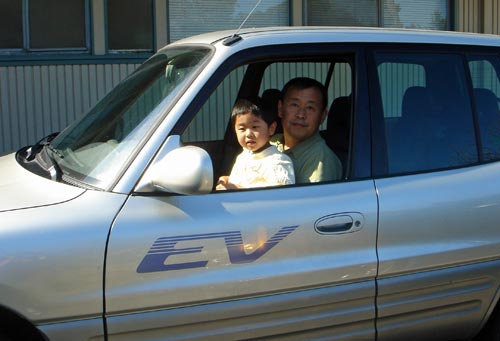 We got the car in June of 2002, and we are putting about 14k miles per year on it, versus less than 4k miles on the gas car. No problem so far except that I had to get a new heated windshield around 60k miles at a cost of about $1000. We are so spoiled that no gas car can replace it.
---
100k miles reached Oct, 2008 - Alexandra Paul, CA

---
100k miles reached on Jan 12, 2007 - Mark and Cathy Whitehead, CA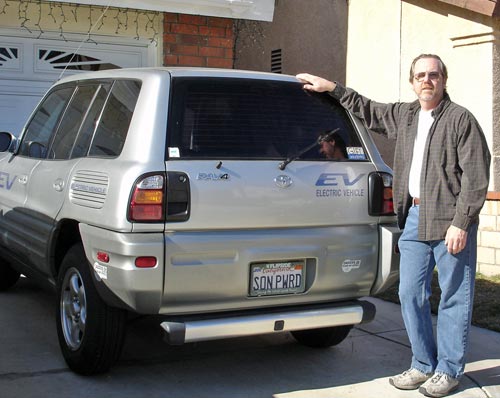 All routine service performed – I took it in for the regular tire rotations every 6 months or so.
1 mechanical issue with the car – The outside driver door handle return spring is broken so the handle is not flush, but it works fine.
0 breakdowns.
1 "oops, I ran out of charge" event – I did a full range test at 90,000 miles (7/06) and ran out about 3 miles from home (after 140 miles!). I was able to complete the journey by turning the car off, waiting a minute and then back on to go the last mile on the turtle at about 10 miles an hour.
1 electrical issue with the car – At 102k the charger rectifier capacitor went out. Repaired by Toyota after 2 weeks of trying to figure it out, even though I told them what was wrong on the first day based on advice from the Rav4EV list.
0 brake pad replacements – at the 102k repair had the regular maintenance done as well – lots of brake pad left. They also changed the fluids at that service (radiator and gearbox).
0 refills of windshield fluid – I just don't use this stuff.
2 sets of tires – 68k on the first set of Bridgestones. Second set now at 36k with plenty of tread left. I have never had an alignment. It tracks straight as an arrow.
100+ miles per charge (still) - At the 90k range test I got 140 miles.
September 2007 Update: 113,000 miles
May 2008 update: 126,000 miles (Overall still a great car. I have no squeaks or leaks, all original except the tires (first set 67,000) second set still going at 58,000. Brakes are still good.)
---
100k miles reached on April 13, 2007 - William Korthof, CA
My RAV4-EV just rolled over 100,000 miles this morning, that was a neat little thrill.
So I thought I'd make a quick tally:
0 trips for routine (or non-routine) service
0 mechanical issues with the car
0 breakdowns
0 "oops, I ran out of charge" events
0 electrical issues with the car to break the monotony
1 brake pad replacement (at home) to fix the OEM squeal
2 refills of windshield fluid
2 sets of tires
100+ miles per charge (still)
Just last week I took a trip 105 miles on a full-to-empty charge... it was net uphill, mostly freeway, starting at 95% soc, I even used the A/C. So in short, the car is working great and exceeding expectations. 10 years ago, no one expected these batteries and this electric car to make it this far, this well.
Well, they did.
September 2007 update: 105,000 miles
---
100k mile reached in June, 2006 - Avi Hershkovitz, CA
Read Avi's Story here.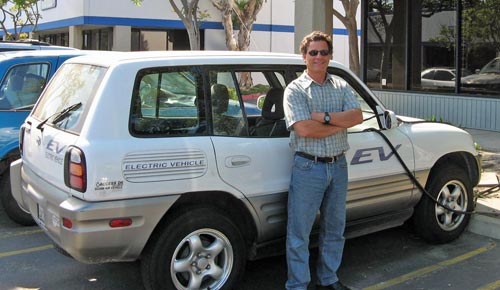 100k miles reached in June, 2006, with no battery problems or range loss. Driving about 100 miles a day as the primary commute car. The charger is carried in the car which enables charging at work.
September 2007 update: 132,000 miles
April 2008 update: 146,000 miles
June 2008 update: 152,350 miles (the last 52,000 miles in two years)
First member of the 200k club on 09.24.2010
---
100k miles reached November 6, 2007 (and lease was purchased) - Charlie McCollister, Simi Valley, CA
* Picture coming *
2002 leased (and now purchased) from Toyota Towne in Oxnard, CA. I had 2 versions of the GM EV1 before the RAV4EV. My average mileage is 20k a yr, as I live out in the "boonies," Simi Valley, Ca and a long way to drive anywhere. My range was 118 on a full charge. I often drive to Santa Barbara, 66 miles from my home, and appreciate their city garage charger. I enjoy the car for the "clean air of it", and IT'S FUN.

---
100k miles reached May, 2008 - Barry and Su Thysell, East Bay, CA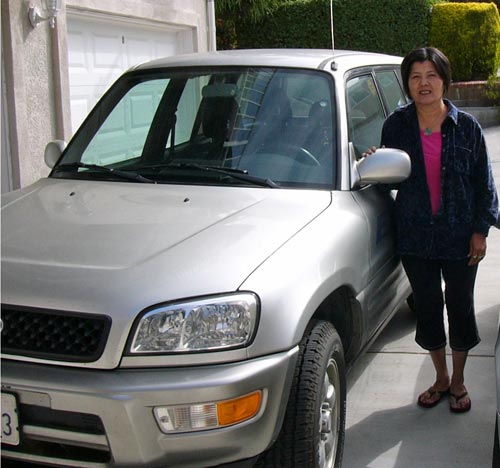 ---
100k miles reached May 18, 2008 - Michael Colburn, San Diego, CA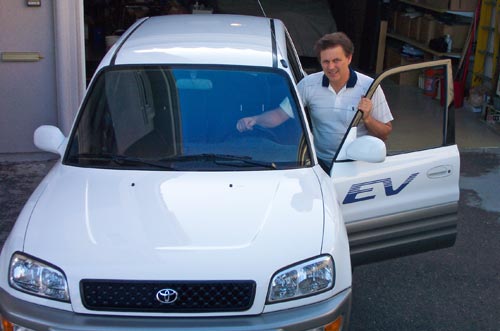 "I've noted a slight increase in internal impedance in the traction batteries, but no decrease in range. I'll send an update at 150,000 miles."
---
100k miles reached July 29, 2008 - Mike Kane
"I drove 130 miles on a single charge today in my RAV4, and pulled into the driveway with 100,014 miles on the odometer."
---
100k miles reached Feb, 2010 - Patrick Beaulieu, San Jose, CA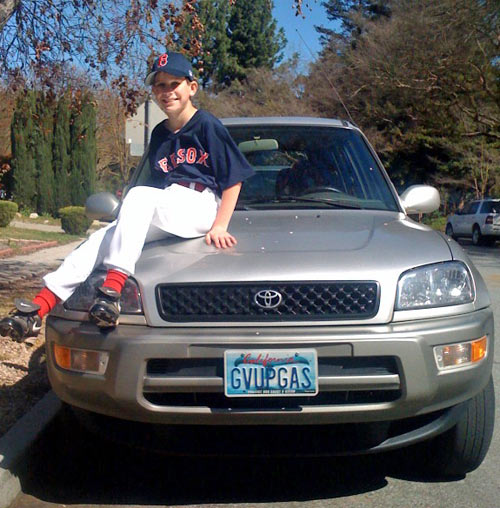 Leased the RAV4 for 3 years starting 11.2002, bought it 3 years later. As of 02.2010 the odometer shows 100,000 miles. Have not had it in for service in 2 years / 30K miles. Seems to be doing fine. internal battery resistance obviously climbing over time. My 75 mile round trip commute still works, with 20% remaining when I get home!
---
100k miles reached 04.04.2010 - Dency Nelson, Hermosa Beach, CA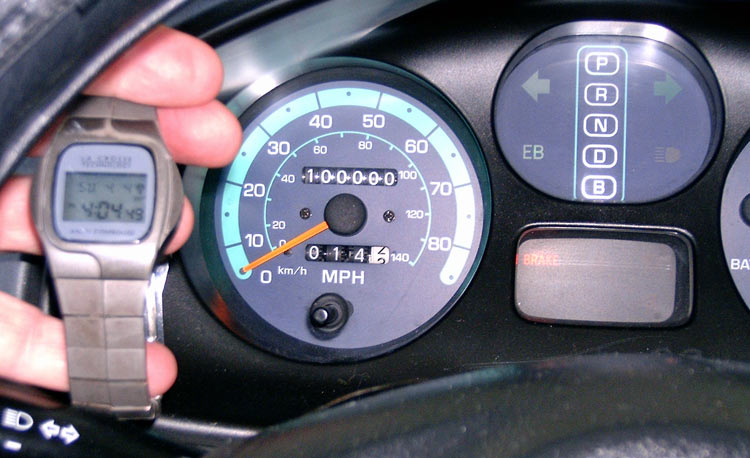 Car turned 8 years old on March 10, 2010. Still my primary commute & pleasure car
---
100k miles reached July 4, 2010 - Waidy Lee, Los Altos Hills, CA
Purchased on April 2, 2002. Powered by 18kW PV since 2006.
---
100k miles reached 11.26.2010. Bryon Murtha, Owings, MD.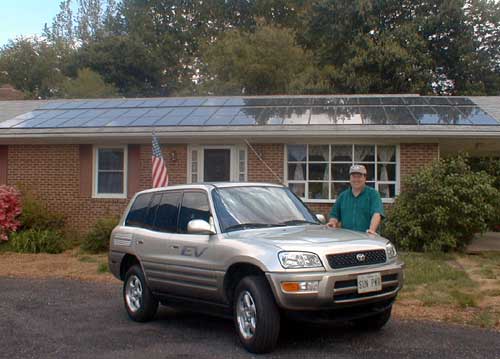 My odometer ticked over 100,000 miles today during my commute to work. I was in the car alone, but almost drove off the road celebrating. The first 10k was in LA, the remaining 90k in Maryland. Amazingly, I can still drive over 100 miles before the bottom of red zone in the relatively flat Washington, DC metro area.
Let's see now, what did I spend on this car during it 's first 100k: one set of new tires, two aux batteries (Duralast $60 lasted less than a year, now using Sears Platinum DieHard $180) and one set of front brake pads (for noise problem only). Just checked my rear brake shoes and they are like brand new. Wow, those darn EVs are so expensive...NOT!
Looking forward to the next 100k! (hey, it might, you never know).
---
100k miles reach 12.10.2010 Arnold de Leon, Cupertino, CA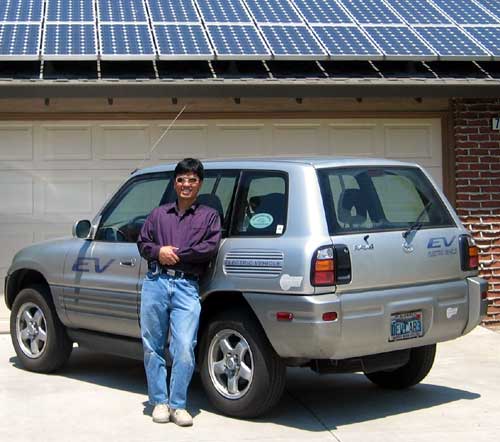 License: DEVCAR3
Silver 2002. Purchased 03.02. Charged by a 10.9 kW solar PV system.
---
100k miles reach 09.27.2011 Kelly O'brien, CA
We turned 100K this morning, in Carmel Valley Village, Monterey County, California. Martha Watson on the right, Kelly O'Brien on the left.
---
100k miles reached 08.23.2012. Stan and Lisa Ireland, Windsor, CA
We finally reached the 100,000 mile mark driven in our 2002 Rav4 EV. At the end of our day driving, I snapped the attached photo of our odometer reading.
We are still getting over 80 mile range combined city/hwy driving on the original pack! No need for a new Tesla Model X yet, but the desire sure is there!
---
100k miles reached 02.14.2013. Robin Yan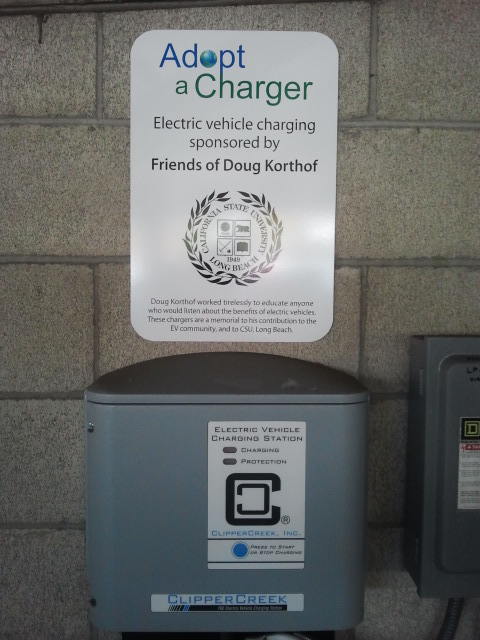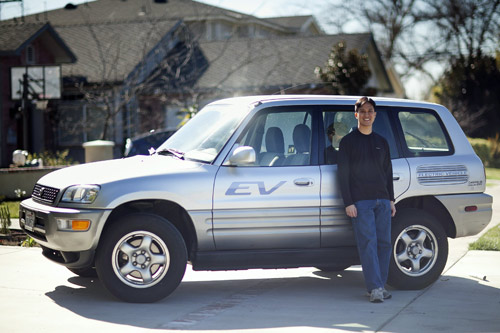 Doug Korthof sold me his RAV4EV a couple months before he passed. The car had about 98k miles on it. I hit 100k on 2/14/2013 at 4:27pm. I visited Doug's memorial and took this picture.
---
100k miles reached May 20, 2013 - Claudine Jones, Berkeley CA
Still using oiginal pack, still getting 80 mile RT without going into the yellow :-) Only real issues are inclines: at lower SOC, I have turtled once, but I am a careful bunny & plan my trips!

---
100k miles reached Feb 22, 2014 - Darell Dickey, Davis, CA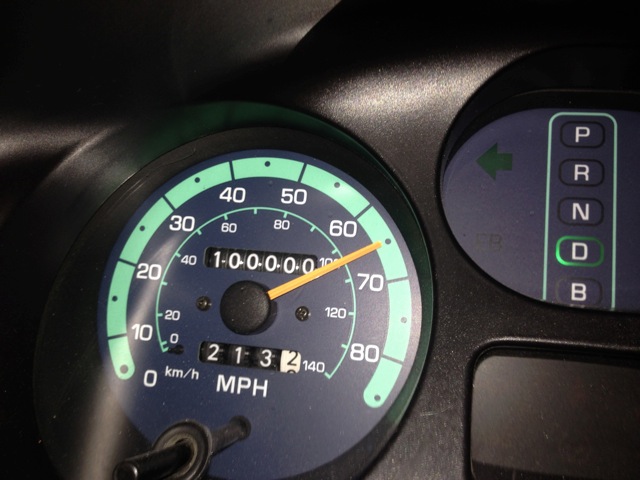 Even with a 2-year overlap with our EV1 (while the Rav was our third car) and me riding ~8k mile/year by bike, we still somehow managed to roll over 100k miles. At 95k miles, the pack was replaced with low-mileage/low internal resistance units. Our range is back up to "new."
---
100k miles reached March 2, 2015 - Vinyasi, CA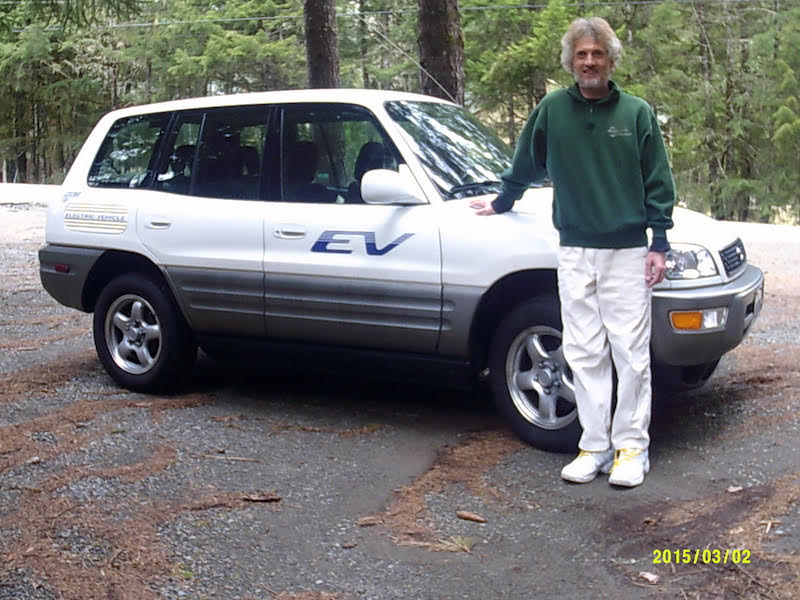 Lanny installed a used NiMH battery pack this past May 21 (2014; Lanny's photo of my dashboard included, below) which had only 15k miles taken from a Ford Ranger EV originally owned by Don Blazer replacing the prior original pack which had 97K miles on it. Lanny also installed an Elcon charger for the times I have to resort to 120volts. William Korthof personally delivered my new OEM windshield to Lanny last May (driving it all the way from southern California to Oregon) for installation since I managed to severely crack the original. Thanks Will.
---