2006 Toyota Prius
(My first, "I don't get to plug it in" vehicle)
Classic Silver (1F7), package #6. Purchased 02.15.2006
---
And yes, I realize that a "hybrid" is not an EV. Thanks for asking. We purchased this as our secondary car, as there really isn't much choice in full-featured EVs at the retail level, now is there? The level of sophistication of the current Prius makes me wonder what a current Toyota EV would be like. Makes me get all shaky. This thing is deceptively roomy, has more power than I need, a comfortable ride and confident handling. Plus LOTS of gadgets! The only draw-back? Gasoline only. :(
My new license plate frame.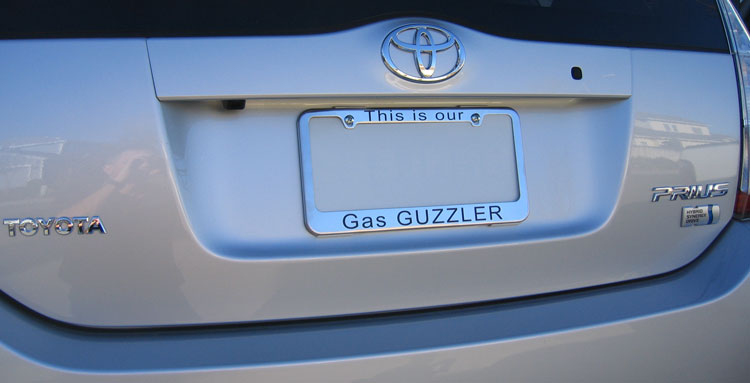 The Prius is a surprisingly GREAT car. That is.... great for a gasoline car. I honestly did not give it credit it deserves. Before purchase, I heard the same thing that everybody else is regularly bombarded with: The Prius won't get the gas mileage promised; you'd save money by buying Corolla; they're too small for a real car. Well, guess what? After owning one, certain things become clear...
The difference in Prius gas mileage (between EPA sticker and *average actual*) compared to the mileage difference in every other car on the road is the SAME percentage. Just because the Prius gets way better mileage to start with, that percentage difference translates into a larger mpg number than it would for a car with poor mileage. Example: If a Hummer is rated for 11mpg, the typical driver would be happy to achieve a bit over 8mpg, right? Well, that same percentage difference means that instead of the Prius seeing the EPA number of 60mpg, it achieves 45mpg on average. Does this mean that we're happier with the 25% difference in the Hummer mileage just because it translates into just 3mpg drop? :sigh:
The size, performance and driving comfort of the Prius is a large notch above the Corolla. In fact, many say it compares more closely to the more expensive Camry (built on the same chassis). For me, it would compare best with a "Camrolla," but no such thing exists. The media just LOVE to compare the Prius (price and gas mileage) to the Corolla, but that's simply not relevant. Yes the Corolla is cheaper... and it is also more polluting, less powerful, smaller, louder, less luxurious, and with no high-end accessories to add on. The Corolla is not a comparable vehicle - so what's the point?
There is no other vehicle that starts at about $21k that offers such things as HID headlights, color reverse camera, airbags for everybody, Vehicle Stability Control, Automatic Climate Control, Smart Key System (never take the key out of your pocket to enter or start the car!), leather, integrated GPS... and on and on. Yes, you pay more for each option, but you start with a relatively inexpensive car before you start adding. Normally, you'd be starting with a $35,000+ base car, and THEN adding the extras.
The Prius has a lot to offer. This car has taken over the role that our 2001 Civic was playing, and the Prius gets about 15 more mpg, accelerates better, has more interior space, offers a smoother ride, handles better, is quieter, pollutes less and has a hatch-back. Yes, I do find the vehicle ugly... but it is also growing on me, much like the EV1 did when I began to really enjoy all that it offered. I have not seen nor heard of a more practical compact sedan on the market than the Prius.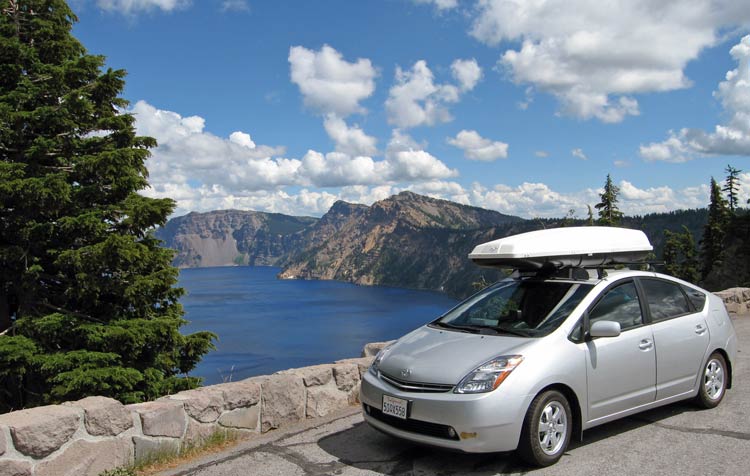 ---
Plates I'd like to have:
*
*
---
What should be fixed in the future Prius?
When I turn off the auto-dimming mirror, leave it off until I turn it back on.

When I turn on Cruise Control (the device, not the speed setting), leave it on until I turn it off
All interior lights should turn themselves off after 30 minutes, even if manually turned on.
Add height adjustment on driver's seat
Design good-looking alloy wheels with the aerodynamics built-in, instead of adding a plastic trim ring.
Allow front-seat passengers to work all MFD controls like phone/MP3/Nav. If somebody is sitting there (already detected for the air bag) then allow ALL MFD controls to function.
Allow vehicle to coast without regen when foot is lifted from pedal. Add manual/variable regen button.
More battery! More plug! Less gas!
Use same light fixture for all interior lamps

Brighter (than 5W) tail lights

LED interior and marker lighting
Shade the top of the windshield
Combined energy and consumption screens into one so I don't have to flip between them for all info
Simplified HVAC control that requires fewer button presses
Steering wheel button illumination that can be seen.
MP3 thumbdrive input into stereo (why are we still spinning space-limited disks?)
Real fog lights
Projector HID head lights
Show me when the engine is running. EVERY time it is running.
Allow the hands-free BT device to automatically connect to the phones on my list.
---
---