Vacaville DC Quick Charger Dedication
---
May 20, 2010
The nation's first public DC Quick Charger (49 kW) was dedicated this morning. This Solar-powered Vacaville Park and Ride now boasts Tesla charge stations, Small Paddle Inductive chargers, Avcon charge stations, 120V outlets for NEVs, and now the nation's first DC Quick Charger that both the Mitsubishi iMIEV and Nissan Leaf will be able to use. And most of the parking spaces are shaded by PV panels that back-feed the grid. The future of green transportation is right here, right now.
This "demonstration charger" was installed by Pacific Gas & Electric in conjuction with Mitsubishi as part of a California Air Resources Board (CARB) grant to do research on fast charging, including user acceptance, grid impact and power quality. Eaton will be manufacturing a U.S. version of this DC Quick Charger, under license from the Tokyo Electric Power Co
There she is. 49kW of pure EV charging glory. Those who enjoyed building Heathkits will likely identify positively with the cutting-edge style and exciting color scheme.

With the connector holstered.

Like looking down a loaded gun barrel. The little pins are for communication. The giant pins shrouded with white plastic are for the big business of charging.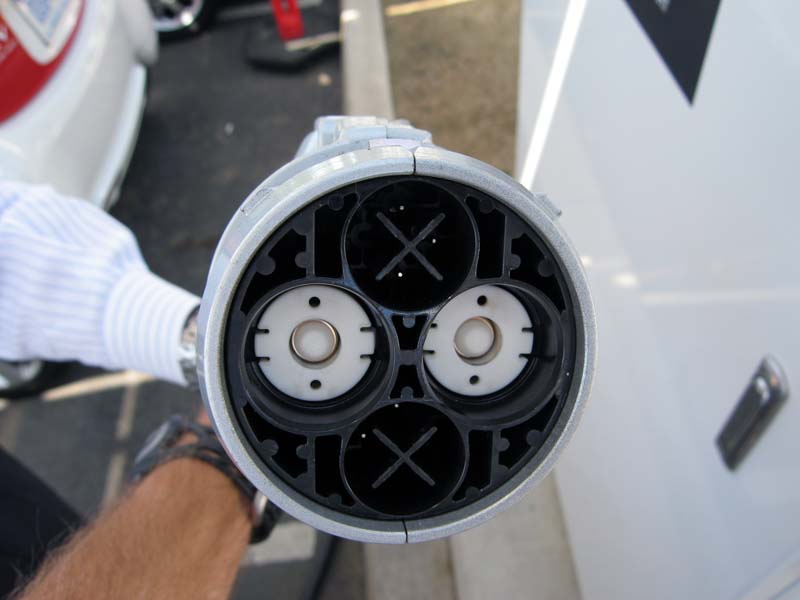 Big black trigger on the bottom secures the connection once in the vehicle's inlet (or charger holster). Big hairy hand is for operating big black trigger.

Small red lever is to release the connector from the holster or inlet. This item will likely change in production versions as it did not survive the "drive over it with a car" test.

The iMIEV Quick Charge inlet ready and waiting.

Hooked up and ready for action. Red light on top shows that it is locked in and charging.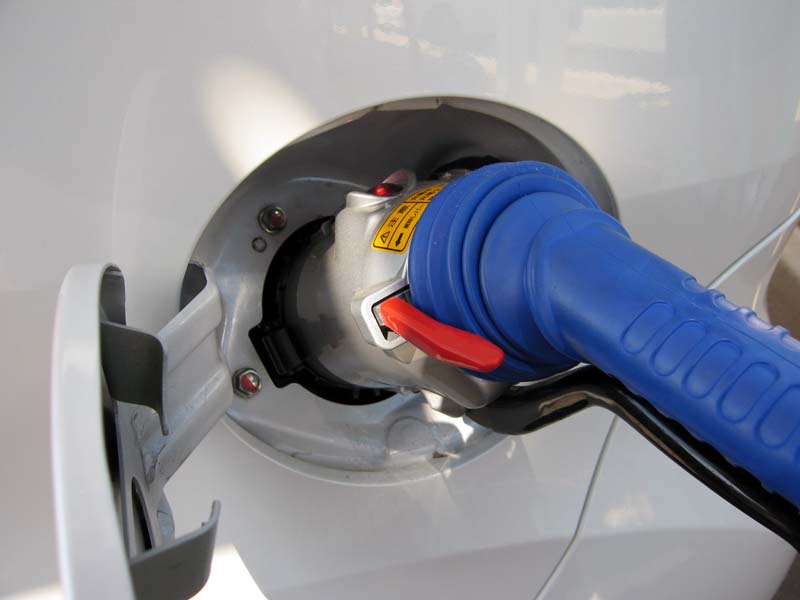 This was only the first of many iMIEVs that we charged today.

And then there were two iMIEVs.

Hard to remove the glare from this shot, sorry. This is the charger's display in action.

Efran and Dave practicing before the real cameras come out.

Dave Patterson now all dressed up and ready for press photos.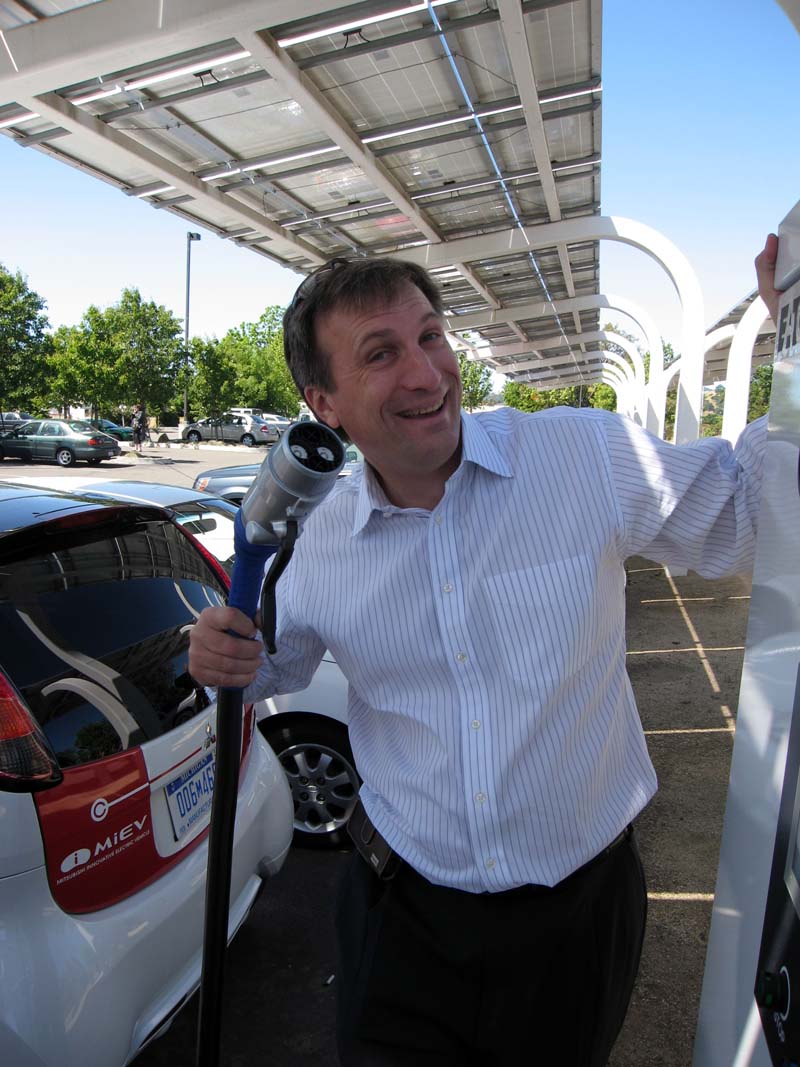 The press conference.

Ed Huestis explaining how the whole solar/EV Park and Ride came into being - and what all the different chargers were used for.

Two Rav4EVs charging next to two iMIEVs. Nearest Rav is mine.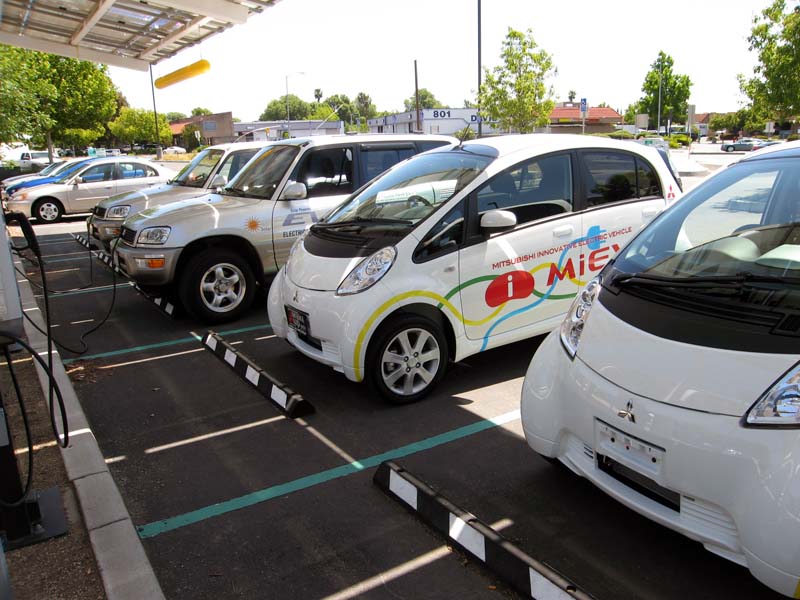 Brad Berman (hybridcars.com and plugincars.com) gives it a try.

Finally my turn. Of course this is just a pose to make it look easy.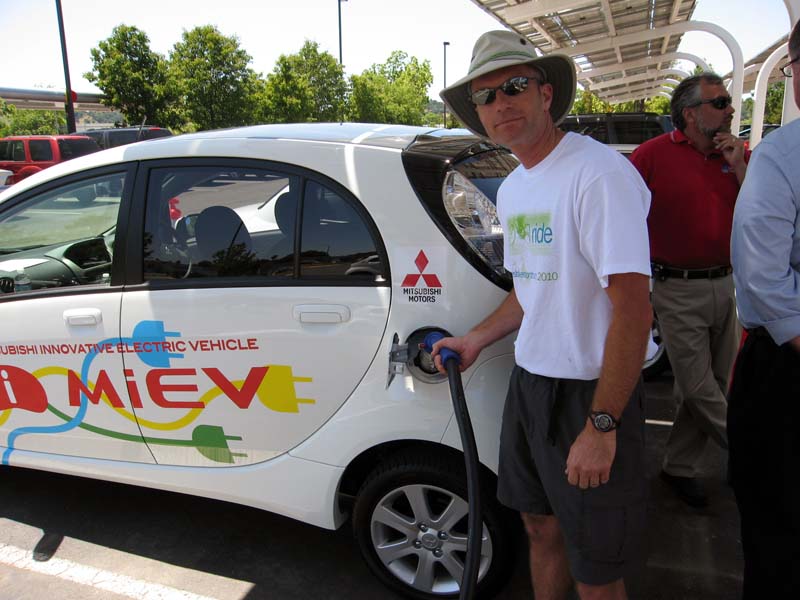 It is actually really tough to shove all those electrons into the car so fast!

Yet a third different iMIEV filling up. We charged at least four cars during the event.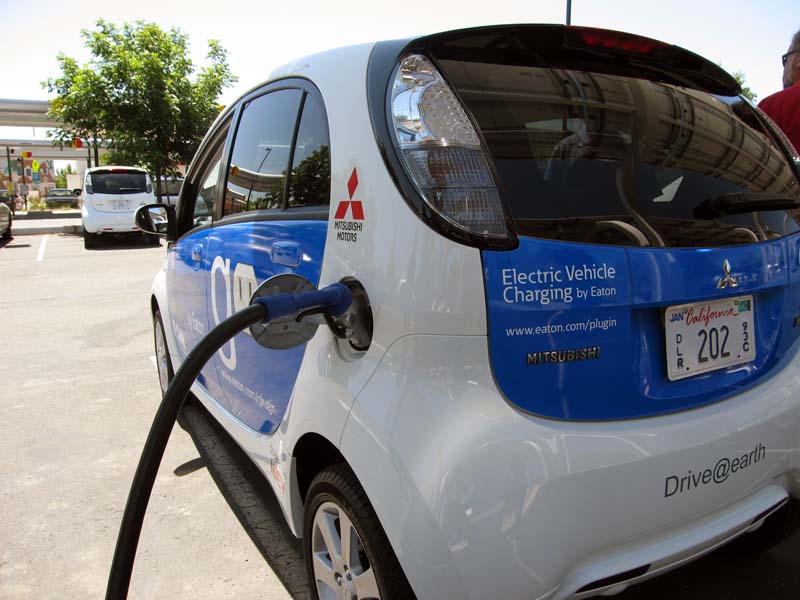 ---
And just for grins - here is a DC Quick Charge port on a factory Rav4EV. The car is a Japan-spec vehicle, currently being driven in Sweden. This car has two physical conductive charging ports (and no inductive charge port)..
- DC Quick Charge port (as shown below).
- AC charge port -Yazaki port that allows two modes - 200V @ 25A or 100V @ 12A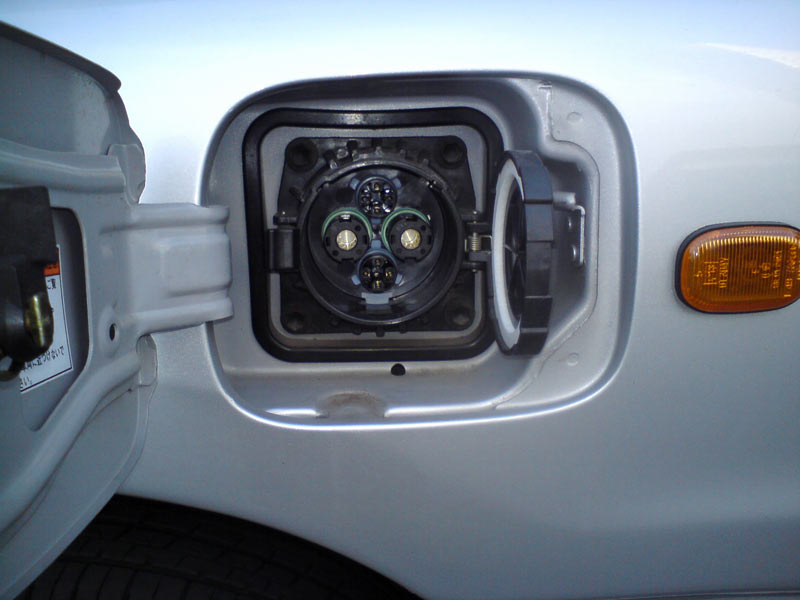 ---