2013 - Rav4EV Pack replacement
---
As internal resistances quickly increased, and my range decreased, it was time to make a decision. Sell the trusty Rav4EV and buy something new and shiny... or put more money into the Rav and keep driving it. Considering that nothing on the market today can really replace this car in function, I dedied to keep the Rav running. And that meant a whole new pack. 95,000 and Eleven years on the original pack (that I ignornatly abused apparently).
Recieved back home on Monday, March 25, 2013.
---
Detailed pack shots after replacement, cleaning and sealing.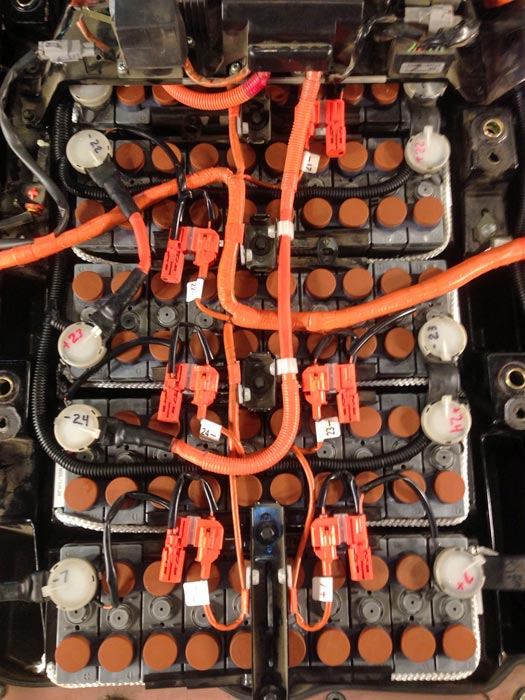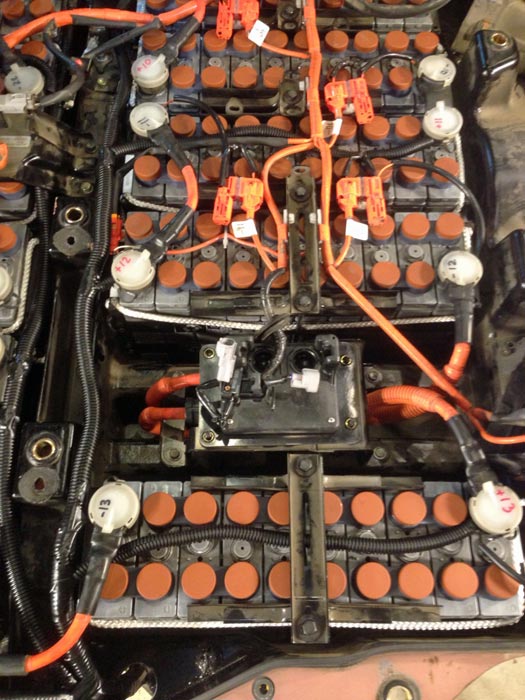 Here's the wiring of the "black box" that allows direction connection to every module without opening the pack.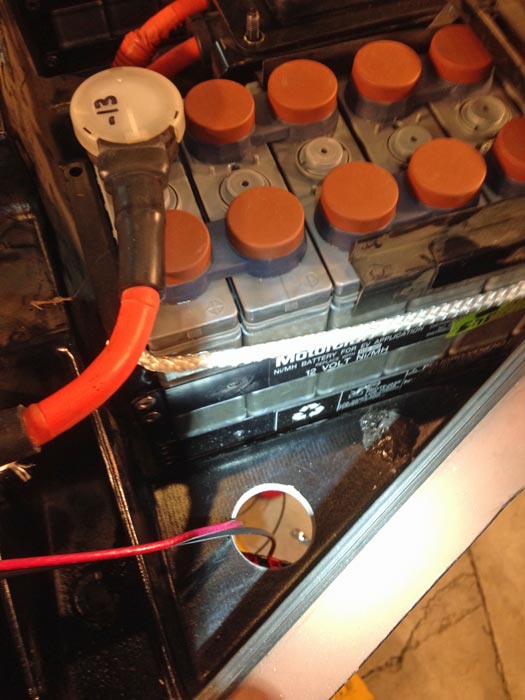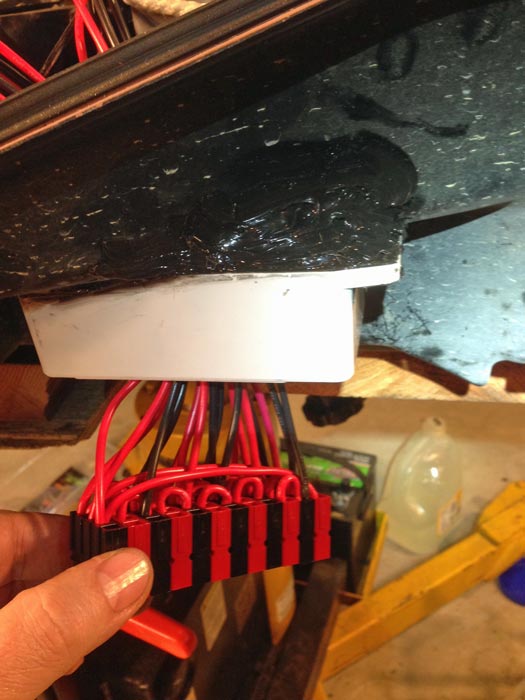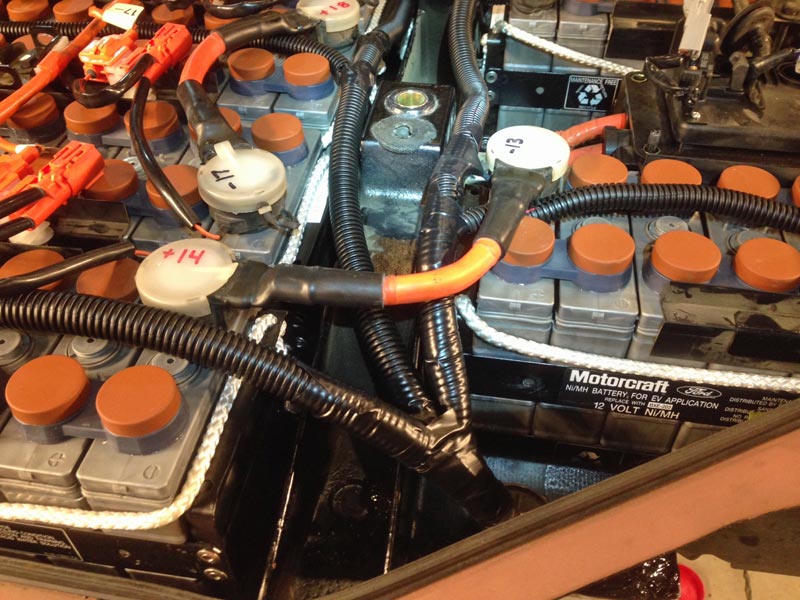 All done!

And on the transporter headed for home: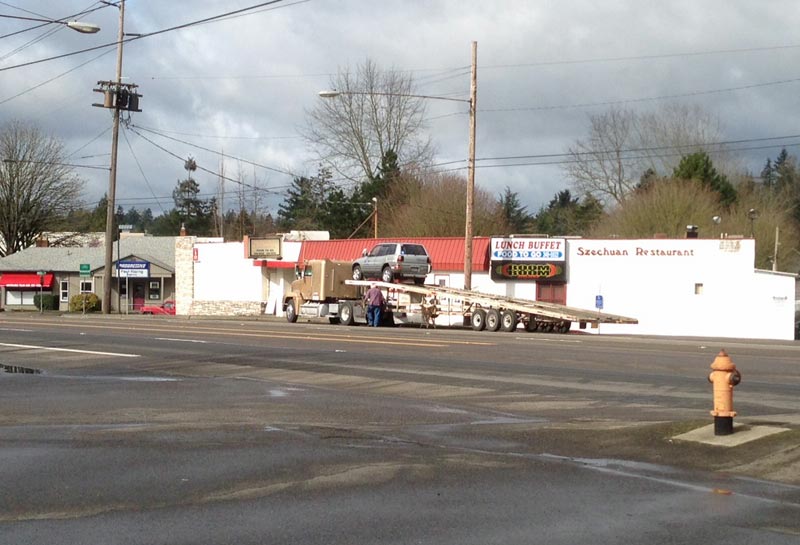 Battery Resistances
| | | | | | | | | | | | | | | | | | | | | | | | | |
| --- | --- | --- | --- | --- | --- | --- | --- | --- | --- | --- | --- | --- | --- | --- | --- | --- | --- | --- | --- | --- | --- | --- | --- | --- |
| 1 | 2 | 3 | 4 | 5 | 6 | 7 | 8 | 9 | 10 | 11 | 12 | 13 | 14 | 15 | 16 | 17 | 18 | 19 | 20 | 21 | 22 | 23 | 24 | Battery Number |
| 5.5 | 5.5 | 5.5 | 5.5 | 5.5 | 5.5 | 5.5 | 5.8 | 5.8 | 5.5 | 5.5 | 5.8 | 5.8 | 5.5 | 5.5 | 5.5 | 5.5 | 5.5 | 5.5 | 5.5 | 5.5 | 5.5 | 5.5 | 5.5 | Initial 03.25.2013 |
| 6.2 | 6.3 | 6.4 | 6.2 | 6.6 | 6.6 | 6.3 | 6.6 | 6.6 | 6.6 | 6.5 | 6.5 | 6.6 | 6.5 | 6.2 | 6.3 | 6.5 | 6.6 | 6.5 | 6.4 | 6.3 | 6.4 | 6.6 | 6.2 | 09.2013 95k miles |
| 6.4 | 6.4 | 6.5 | 6.3 | 6.8 | 6.7 | 6.4 | 6.8 | 6.8 | 6.8 | 6.6 | 6.7 | 6.8 | 6.7 | 6.3 | 6.4 | 6.7 | 6.8 | 6.8 | 6.5 | 6.4 | 6.5 | 6.8 | 6.4 | 10.2013 96k miles |
| 6.5 | 6.5 | 6.5 | 6.4 | 6.7 | 6.7 | 6.6 | 6.8 | 6.8 | 6.8 | 6.7 | 6.7 | 6.8 | 6.7 | 6.4 | 6.5 | 6.7 | 6.8 | 6.7 | 6.6 | 6.5 | 6.6 | 6.7 | 6.4 | 01.2014 99k miles |
| 6.5 | 6.5 | 6.6 | 6.5 | 6.8 | 6.8 | 6.6 | 6.9 | 6.9 | 6.9 | 6.8 | 6.8 | 6.9 | 6.8 | 6.5 | 6.5 | 6.8 | 6.9 | 6.7 | 6.7 | 6.6 | 6.7 | 6.8 | 6.5 | 02.2014 100k miles |
| | | | | | | | | | | | | | | | | | | | | | | | | |
| | | | | | | | | | | | | | | | | | | | | | | | | |
---