Ford Ranger Vigil
---
Ford Ranger EV Vigil, Sacramento, CA Jan 15, 2005
Official Ranver EV Blog site.
Protest at Downtown Ford. Trying to keep Ranger EVs from being "destroyed." My Rav is the far one on the right there. Woke up at 6am just to wash it!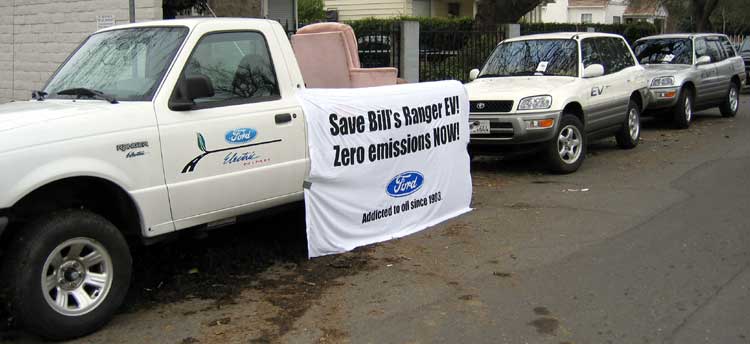 Bill Korthoff (that's his truck) Darell, and Tim Hastrup. It is colder than it looks. I'm the only one dressed correctly - you can't see the other guys shivering in the picture - but I'm the only one really smiling. :)

Lined up for the victory parade leaving the Ford Dealership - Jan 22, 2005. We had 15 EVs, including many conversions, lots of Rav4EVs, the last EV1 on the road and a Dynasty NEV.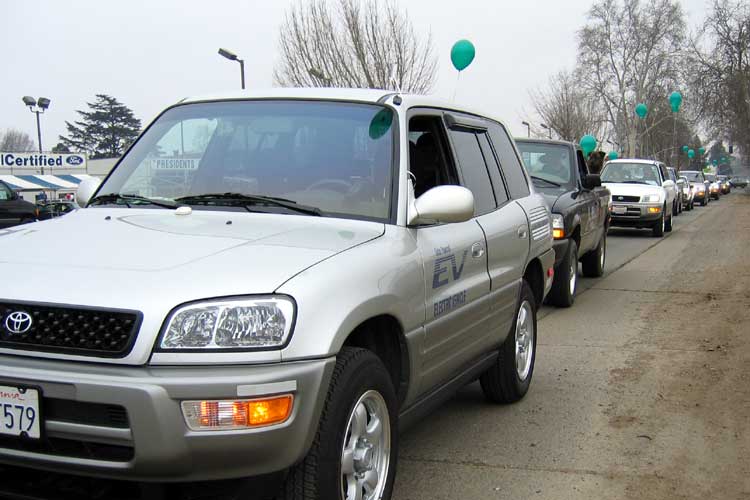 Parked at the downtown Sacramento park. All EVs parked on both sides of the street. Yes, even the yellow Porsche and the VW Cabriole across the street are BEV conversions.

The BBQ victory party.

My lovely wife and daughter.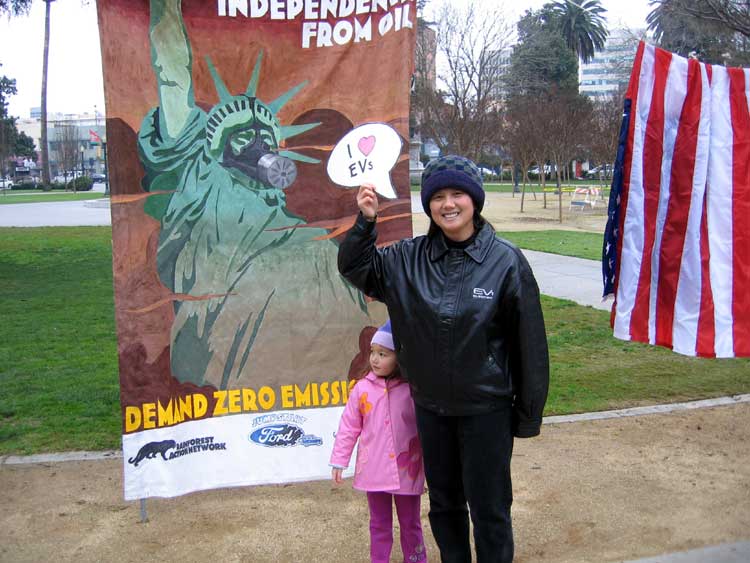 And every once in a while I get into the picture.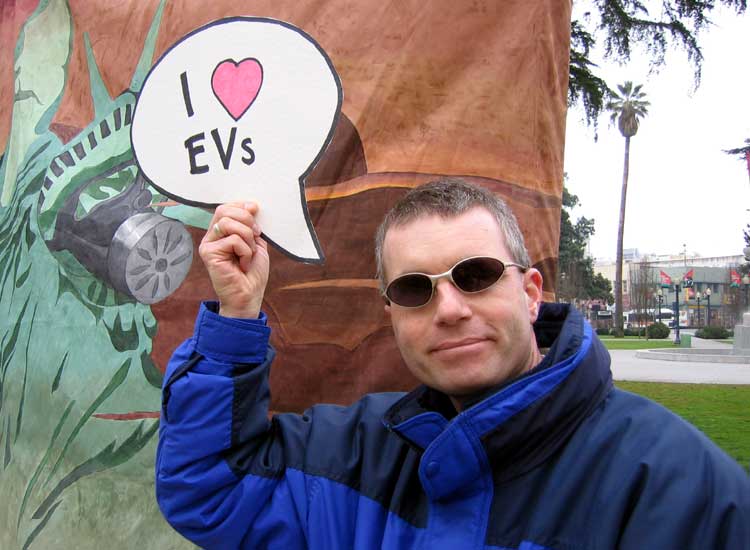 The result? We won, folks! The crushing has stopped, and the current lease holders will be allowed to purchase their cars. Past lease holders will be allowed to purchase cars from Blue Sky Motors in a lottery system.
---
Darell Dickey -
Thank you for your interest in the purchase on an EV Ranger, your request has been received and documented.
In the late 1990s, Ford Motor Company built about 1,500 Ranger compact pickup trucks powered by nickel metal hydride (NiMH) batteries. The NiMH vehicles got real world driving mileage of 65 to 85 miles on a single charge. The program was an experimental effort to gain knowledge about this particular form of alternative fuel transportation and vehicles were leased to consumers for a finite period of time, generally three years. Most of the vehicle leases have expired and there are less than 100 units still operating, mainly in California. Several lessees have expressed a desire to purchase the EV Rangers when their leases expire and in late January Ford Motor Company decided to sell the vehicles to those customers in question.
Ford Motor Company recognizes that customers are passionate about this product and is working on terms and conditions for customers to purchase available vehicles. Ford Motor Company takes issues of customer satisfaction very seriously. We look forward to working with present, past and future EV Ranger customers.
Thank You
Fran Pilotti
Ford Motor Company
Email: fpilotti@ford.com
---