EV Charger Signage
---
Some of the more confusing signs we've seen.
At the San Diego Airport, there is a sign that prohibits EVs from parking near the Avcon charger. The yellow "Clean Air Vehicle" sticker pictured is the one that gasoline hybrids are issued. The HOV stickers for EVs are white. So according to this sign, only those fabulous gasoline-burning "clean cars" can park near the EV charging station.

At the South San Francisco Costco, we have this confusing situation. These spots are for Electric Vehicles only, and are also for Handicap Parking only. I'm not sure how big the cross-section of the population is that drives an EV AND has a blue placard, but it can't be too big! I need to get a close-up shot of the signs.

At the Mondavi Center at UC Davis, we find similar handicap/EV signage to that at Costco. At least the sign (enlarged on the right) almost makes sense even if the paint on the ground doesn't. Apparently the space on the left is ONLY for EVs, the one on the right is ONLY fir EVs unless you are handicapped or if there are no other spaces.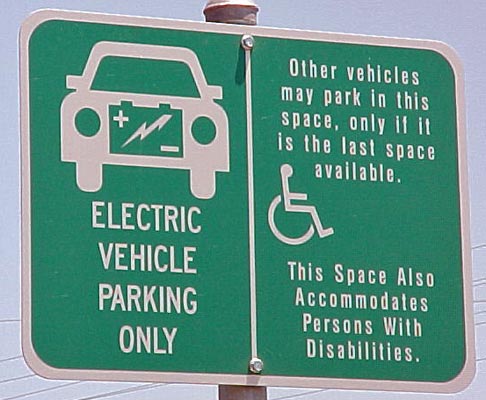 ---